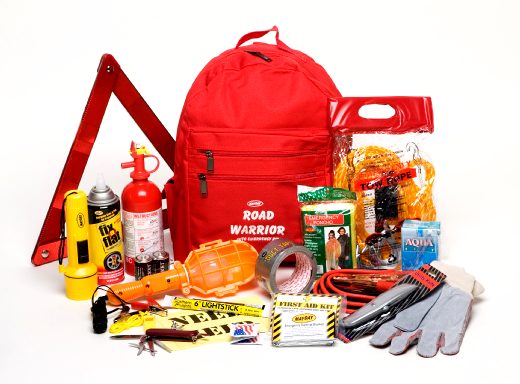 Car accidents and other roadside emergencies are very common. Preparing for these unfortunate events can minimize the risks to your safety and improve chances for survival in serious situations. Vehicle safety kits should contain first aid supplies, some emergency food and water, tools, and safety supplies to repair your auto or keep yourself safe until help arrives on scene. All drivers should keep an auto safety kit stored in their vehicle.
Aa great way to build survival preparedness is to provide every new driver with a roadside emergency kit as a rite of passage. Every new driver should be given a vehicle safety kit and taught about what to do in an auto-related emergency. Building driver awareness regarding the dangers of accidents and other mishaps may inspire new drivers to be more cautious. Educating younger drivers on how best to respond to roadside emergencies can reduce harm and increase survival when difficulties arise. Simple roadside emergencies may be quickly overcome with the proper tools and safety precautions. Even more complicated situations are best responded to with quick thinking and on hand emergency supplies.
A properly stocked roadside emergency kit will help minimize risks and prevent further damage or harm. A seemingly minor auto emergency such as a flat tire can quickly escalate into a dangerous situation without the proper precautions. Items to maintain your visibility such a reflective triangle or vest are important to safely move around a disabled vehicle and alert passing motorists of your position. If you require assistance, a cell phone will help you notify authorities, and a help sign may alert other motorists of your predicament. Light sticks and flashlights are important for visibility and vision at night or in overcast weather conditions.
Drivers should also be prepared for more complicated roadside emergencies such as a car accident or injury while traveling. First aid supplies are critical components of vehicle safety kits. Comprehensive car survival kits should include antiseptics and bandages, as well as items such as instant ice packs and pain relievers.
In addition to first aid supplies, multipurpose tools designed to break car windows and cut seatbelts are also great additions to auto safety supplies. Tire sealer and inflators are also practical. Convenient kits are available stocked with many of these useful items. If you find some specific supply missing, you may easily add a fire extinguisher, emergency blanket, and food and water to supplement as necessary.