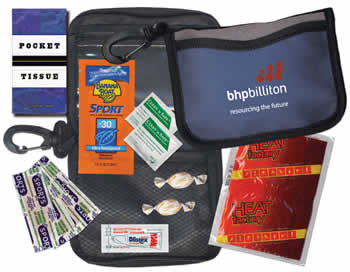 Want to promote both your brand and safety at the same time? Promotional first aid kits give you the ability to offer a product that people can actually use, while promoting your company too. Leave a long lasting impression with clients and potential customers when you give them a promotional first aid kit.
Promotional first aid kits clearly display your logo, giving your brand constant visibility. Clients may keep the first aid kit in their office for emergency situations, giving your company free advertising. Promotional first aid kits make great give-a-ways for any company. Most of the time people will never use or throw away promotional items that they receive. A promotional first aid kit is something that someone can actually use. Whether they use them at work, home, or in their car, they will keep them. Your business will then benefit from the constant exposure it receives whenever the kit is used or seen.
There are many different kinds of promotional first aid kits that your business can use. There are outdoor kits, first aid keychains, wallet kits, belt kits, travel kits, sports kits, and even home/office kits. With so many choices, you can choose which kind of first aid kit you would like your clients or potential customers to receive. Here are some of the items you would typically find in a promotional first aid kit:
• Wet wipes
• Bandages
• Antiseptic swabs
• First aid instruction card
• Gauze
• Sting relief pads
For an affordable price, you can get a unique advertising tool that people will actually use. Don't waste valuable marketing money on other promotional items ever again. Purchase promotional first aid kits with your logo on them for a long lasting advertising strategy.